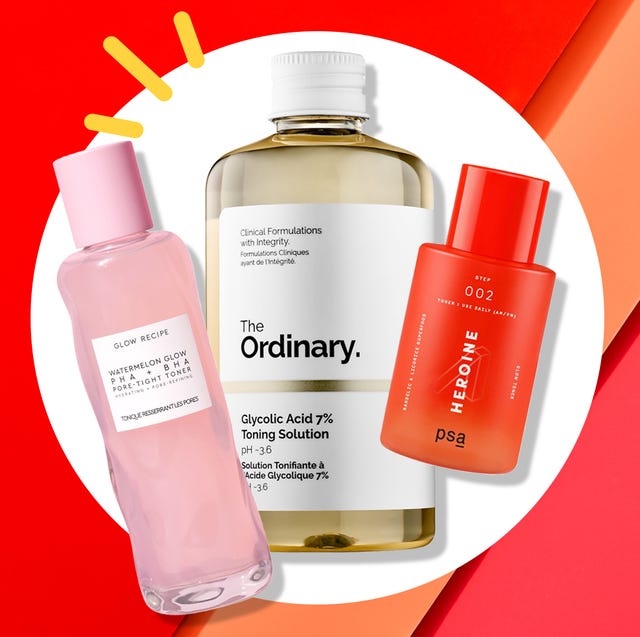 Christine Giordano
Curating the perfect skincare regimen can often feel overwhelming. Between the 12-step nightly routines we hear more and more about and the pressure to keep your skincare simple, short, and sweet, it's tough to know which products are actually worthy of a place in your bathroom cabinet and which you can skip. But, if you find yourself regularly fighting breakouts or controlling your acne-prone skin, you'd likely benefit from adding a toner to your skincare lineup.
While there continues to be some confusion over what defines a toner—in large part due to the departure from the strong, over-stripping astringents that made up the category in the 1970s and '80s—it's best understood as a water-based liquid that delivers deep and fast hydration and primes skin for the rest of your routine. Even so, "there is still no uniform definition across the beauty industry of what a toner actually does as their functions vary from brand to brand," explains Shereene Idriss, MD, a board-certified dermatologist in New York City. "Depending on what it contains, it may also deliver a boost of antioxidants or even serve as an exfoliating step to get rid of dead skin cells and unnecessary build up."
Of all the toners available, Dr. Idriss believes the exfoliating options are the most compelling since they can be used by all skin types to target a range of concerns while also buffing the skin's surface. "If you have oily or acne-prone skin, salicylic acid toners are best suited for you," she says. "Whereas if you have dry skin, then glycolic acid toners can help deliver dual action of hydration and exfoliation. And finally, if you are on the sensitive end of the spectrum, a toner with a polyhydroxy acid, like glucanolactone, might be your best bet." Because most people with acne have some combination of these skin types or have different needs at different times, here are the best toners for acne-prone skin so you can find the best option for you.
Advertisement – Continue Reading Below
1
Best For Oily Skin
Vinopure Natural Salicylic Acid Pore Minimizing Toner
Caudalie
sephora.com
$28.00
Powered by 100% natural salicylic acid, this Caudalie toner acts like a vacuum for your pores, purging them of blackheads, oil buildup, bacteria, and dead skin cells that typically cause breakouts. The formula, although powerful, is non-irritating and safe for sensitive skin, thanks to added grape seed water and rosewater, and will calm inflammation and enhance your glow.
2
Best Budget Buy
Clear Pore Oil-Eliminating Astringent
Neutrogena
target.com
$4.99
Formulated with witch hazel and two percent salicylic acid, this acne-fighting toner is tough enough to give pores a deep clean and remove dirt, oil, and makeup that might otherwise cause breakouts and yet, gentle enough to use morning, afternoon, and night. And while the common dream of shrinking pores may still be impossible, Neutrogena's astringent will help de-clog your pores so that they *appear* smaller.
3
Best Hydrating
Watermelon Glow PHA +BHA Pore-Tight Toner
Glow Recipe
sephora.com
$34.00
We all know that in order to achieve that universally-coveted glowing skin, you must start with hydration—and this toner from Glow Recipe fully takes that into account. Watermelon extract, the star ingredient, hydrates skin and delivers essential vitamins and amino acids to help soothe inflamed, acne-prone skin, while polyhydroxy acid gently exfoliates, and cactus water seals in moisture with electrolytes and antioxidants to ensure a bouncy texture.
4
Best For Dry Skin
Glycolic Acid 7% Toning Solution
The Ordinary
sephora.com
$8.70
With a high concentration of glycolic acid, aloe vera, ginseng, and Tasmanian pepperberry, this exfoliating toner offers mild exfoliation without stripping skin. The alcohol-free solution is great for dry or dull skin and promises to improve skin radiance, as well as clarity and texture.
5
Best for Combination Skin
Tone Balance Elixir
Isla Beauty
isla-beauty.com
$48.00
If your skin seems to bounce between dry and oily faster than you can say "combination skin," then this toner is ideal for you. With witch hazel to help reduce oil buildup and a blend of glycerin, aloe leaf juice, and botanical extracts to protect against irritants, accelerate the blemish healing process, and deliver clinically proven hydration, Isla Beauty's elixir seriously does it all.
6
Best Classic
Glycolic Acid Toner
Mario Badescu
ulta.com
$18.00
This alcohol-free toner from Mario Badescu has been a cult favorite for years, and it's easy to see why. The glycolic acid formula exfoliates and resurfaces skin to minimize the look of pores, balance skin, and create a more radiant, even complexion.
7
Best Sustainable
Heroine Mandelic & Licorice Superfood Glow Toner
PURPOSEFUL SKINCARE BY ALLIES
sephora.sg
$45.00
Designed to be the hero (or heroine) of your skincare regimen, this toner calls upon six percent mandelic and lactic acid, niacinamide, licorice root, and botanical extracts to deep clean pores, reduce breakouts, and enhance your glow. And the best part of all? It's 100 percent clean and biodegradable.
8
Best Balancing
Tonique Radiance Clarifying Refining Toner
Lancôme
sephora.com
$31.00
Made with antioxidant-rich white lotus to protect and clarifying anise extract to speed up cell turnover, this toner exfoliates and purifies in one step. The gentle formula helps skin look radiant and clear and feel soothed, hydrated, and pampered.
9
Best For Uneven Texture
Deep Sweep 2% BHA Pore Cleaning Toner
Farmacy
sephora.com
$28.00
This refreshing toner targets oil buildup and clogged pores to remove all impurities, but it's also a great option for improving skin texture. With two percent salicylic acid to exfoliate and refine, moringa to purify, and papaya enzymes to clarify and freshen, Deep Sweep will leave your skin clean, controlled, and even.
10
Best Smoothing
Get Toned Pro-Glycolic 10% Resurfacing Toner
Formulated with glycolic acid, probiotic extracts, and beetroot, this Tula toner gently exfoliates skin while smoothing and hydrating. The alcohol-free gel removes impurities, calms irritation, and balances skin to allow for better absorption of the rest of your skincare regimen while offering continued antioxidant protection and hydration.
11
Best for Cleansing
Clarifying Toner
Although cleansing is always a crucial step in any skincare routine, we all sometimes find ourselves in a pinch when cleanser simply isn't an option—and this toner is the perfect alternative. Designed to purify acne-prone skin, the formula features witch hazel to control oil and tighten pores, algae extract to regulate sebum production, and grape seed extract and vitamin E to protect skin from free radicals.
12
Best Brightening
Day Glow AHA Facial Tonic
The secret to bright, glowing skin, this toner is great for all skin types, especially if it's looking dull or lackluster. It uses the powers of lactic acid to chemically exfoliate dead skin cells and refine pores, superfood mushrooms to improve skin renewal, and upcycled floral waters to soothe, leaving skin dewy and radiant.
This content is created and maintained by a third party, and imported onto this page to help users provide their email addresses. You may be able to find more information about this and similar content at piano.io
Advertisement – Continue Reading Below