Welcome back to the June edition of Glowing Review, presented by RosieGlow Skin Studio. I'm Ali Evans, and each month I'm trying a different health, wellness, or self-care trend, and sharing my experiences from one normal person to another.
RosieGlow Skin Studio is the perfect partner for Glowing Review. Not only does Jenny provide facial services that will have you glowing inside and out, but she is also a huge supporter of other businesses in her own industry. When I featured Jenny on Woman Crush Wednesday, she shared "the more awareness we bring, the more prosperity and generosity that goes around" and in any industry, that's an important reminder.
This month, I'm back at RosieGlow for a Tighten & Brighten Facial, but as the title might tell you, this time I got to bring my best friend along too! There wasn't too much arm-twisting involved when I texted my BFF Melissa, asking if she'd like to get a fruit tray & prosecco and get pampered at RosieGlow. It might be the fastest she's ever texted me back, to be completely honest.
In the past, I've done two different kinds of "spa" days with friends; going to get a quick pedicure, where you visit and try to catch up in the presence of roughly 7 strangers, and the big expensive spa day where you have to whisper by a pool while other people try and relax. Now that my friends are busy with work, or kids, or life in general, I value my time with them so much more, making a private, relaxing facial the perfect way to spend our limited time together.
Other than the facials themselves, the best part of this whole experience was that Melissa and I were the only two people RosieGlow's Spa. We were able to be ourselves, chat privately, and just be completely comfortable in the space. It was quiet, tranquil, and totally personalized – for an incredibly reasonable price point.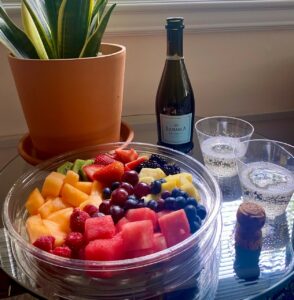 In each Glowing Review, I use the "Self-Care Scale" to discuss different aspects of each treatment, so you can choose what to try based on what matters the most to you.
Experience: BFF Spa Day at RosieGlow Skin Studio
Relaxation Level: 7. Personally, I don't mentally "check out" during facials or massages, so having my best friend in the room didn't change the experience for me whatsoever. If you're a person who prefers silence during these appointments, bringing your best friend along might not be for you.
Painful Meter: 5. As mentioned in a previous edition of Glowing Review, facials are relaxing and wonderful, but they are also meant to thoroughly clean your face. That can mean slightly painful extractions to get all the "junk" out.
External Results: 7. I've mentioned this before as well, but in my experience, facials are more about the inside feeling than the outside glow. Luckily with RosieGlow, you don't have to choose! However when it comes to a "BFF Spa Day," the warm-fuzzy feeling you get after relaxing for a couple hours with your best friend is the best part. Hands down.
---
Melissa has been my best friend for half my life, and as we get older things like this are harder to get on the calendar. Now that she's a mom of two, I appreciate every single minute I get to spend with her. This was such a fun and unique experience, and I really hope you take the time to enjoy it with your favorite person too.
Jenny at RosieGlow Skin Studio is ready to take excellent care of you and your bestie. So give them a call, find a day you're both available, grab your favorite champagne, and easily book online here.
I'll see you next month with another experience to share thanks to RosieGlow Skin Studio!
---
RosieGlow Skin Studio offers facials, microdermabrasion and chemical peels, oxygen therapy, LED treatments as well as the best products to use at home. They proudly use non-toxic, eco-friendly and cruelty free Sanita Skincare products that are specially designed to improve your skin's health. Located inside the For Women Holistic Gynecology and Conscious Wellness clinic, they are committed to providing a judgement free escape from stress and solution based skin treatments.
Related