Take a quick scroll through Myra Ali's Instagram page and you'd wouldn't be remiss in feeling a tinge of jealousy. Celebrity faces from the likes of Tom Holland to Riz Ahmed and Samuel L. Jackson will flash back at you, in the form of video interviews and countless clips, each longer and more entertaining than the next. Such are the perks of being an entertainment Journalist, you'd say. Some of us get to do the nine-to-five grind, whilst others get to sit across and chat the afternoon away with the human perfection that is Jake Gyllenhaal.
But for all its glitz and Hollywood glam, what you wouldn't find on Myra Ali's Instagram, is the poignant story of her grit and strength in overcoming the impossible to get to where she is today.
Born in the UK of British-Pakistani descent, Myra lives with one of the world's most uniquely debilitating skin disabilities – a rare condition known as Epidermolysis Bullosa (EB) or 'Butterfly Skin'. Those suffering from the condition most often inherit it as a result of a gene mutation, enduring painful blisters to their skin on an ongoing basis. These may vary across their body – from their face to their hands to their feet or even inside their mouths. Patients often require assistance with daily tasks including self-care and hygiene, getting dressed and mobility, as well as support in changing any bandages or dressings required to keep any open wounds clean and covered.
There is currently no known cure for Butterfly Skin, though it can be proactively managed by removing blisters using sterile needles, sensitive skin-care routines and the application of protective dressings. All that, without even taking into consideration the mental health effects of a lifelong disability such as this one on a young, beautiful woman with the talent to have the world at her feet.
And yet, as we chat over Zoom into the late hours of the evening in Singapore, I'm somewhat taken aback by the pure positivity of Ali, and her ability to see things through a lens of alacrity. What catches me immediately are her almond-like eyes, her long dark hair combed down and styled immaculately and what appear to be endlessly long lashes, coated with whippings of dark mascara. She smiles excitedly on screen as we gush about our favourite Hollywood heartthrobs and she talks me through her latest interview experience with Netflix's breakout erotica-god, Michele Morrone (365 DNI).
"He's very charming, you know how Italian men always tend to be. He's really lovely and always gives me extra time during the interview. He's also quite flirty!' She giggles shyly, inciting me to do so too, until we're both chirping like school girls in a playground, pointing at our crushes.
Myra with Netflix star, Michele Morrone
Such is the infectious energy of Myra. During our almost hour and a half long chat, we talk through a myriad of topics from her start in journalism, her experiences growing up in the UK as a woman of Pakistani heritage, our celebrity crushes, make-up, fashion, managing social media to navigating modern dating.
"The work I do really helps me get through any dark places that happen to come with my condition," she shares. "I first got my start in journalism by blogging about my skin and within 6 months, the UK press had found me and asked if they could feature me. I ended up in the Daily Mail and The Sun. From there, the story was picked up by one of the largest newspapers in Italy, 'La Repubblica' and from there, other media outlets started getting interested in me."
Though grateful for the platform to shed light on her disability, Ali knew from the very beginning she didn't want to be defined by it for the rest of her career. Working with the NHS at the time and supporting countless charities, Myra's opportunity to distinguish herself came when she was unexpectedly offered an opportunity to interview a local celebrity Chef, Jason Atherton, for a non-profit project. She said yes, even before she could've known the life-altering effect it would have on her future in media. Call it serendipity, call it fate or destiny, her path to entertainment reporting seemed meant to be.
"Whilst I was interviewing Jason, it just so happened that the photographer, was (actor) Tom Holland's mum. We had lunch afterwards and she told me she thought I was a great interviewer and I of course said thank you so much. Then she goes, "Do you want to interview Tom for the next Spiderman film?" I was awestruck, but said, of course! I didn't think much of it, because it was two months away at the time and I knew it might not even happen."
But it did. A few weeks later, in the middle of her preparation to move to London from her hometown, Myra received a text out of the blue asking her to attend the press junket in a swanky uptown hotel, surrounded by America's top entertainment Journalists. Though nervous for her first press junket ever, Ali ended up interviewing not just Tom Holland, but leading actress Zendaya, veteran Samuel L. Jackson and prolific actor, Jake Gyllenhaal – giving her access to the entire main cast.
Holland also ended up sharing his interview with Ali across his social media channels (citing it as his 'best interview ever') and garnering the attention of several other media outlets and charities, who begun to rapidly express interest in Myra's unique story and talent.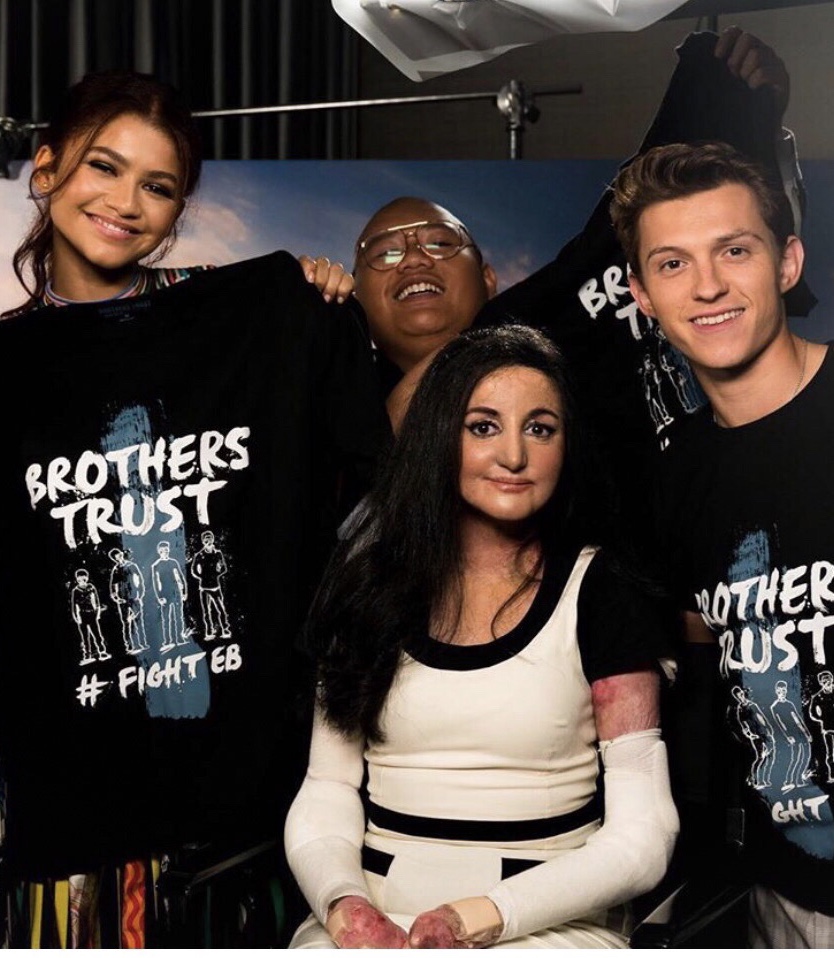 Myra with actors Zendaya, Jacob Batalan and Tom Holland
Her first red carpet was at the London Film Festival in October 2019, where she interviewed celebrities including Lily Rose Depp, Joel Edgerton, Timothy Chalamet and producer of Oscars favourite – 'La La Land' – Fred Berger. Before she knew it, Marie Claire was reaching out to profile her and offering a chance to contribute to their publication. Suddenly, she'd gone from a young woman with a cause to center stage on the world's biggest platform: Hollywood.
"It was a bit of a mad few months honestly. I still don't know who it was who nominated me, but during the same period, I was nominated for the 'UK Woman of the Year' award. It was unbelievable. Shortly thereafter, I became the recipient of an another award from Her Royal Highness, Sophie – the Countess of Wessex, for some charity work I had been doing with the Dystrophic Epidermolysis Bullosa Research Association (DEBRA UK), of which she's a patron. It was amazing, but it was all just happening so fast!" Ali reflects back.
She went on to win runner-up for 'UK Woman of the Year' that same year.
Myra with actors Jake Gyllenhaal and Samuel L. Jackson
However, just as Myra was enjoying her well-earned catapult into the vision of media she'd always had, she was unexpectedly struck by another unforeseen adversity and one she couldn't take lightly: a diagnosis of skin cancer. Though not uncommon for those suffering from EB to develop the disease, it was yet another hurdle she had to overcome, causing disruption to her newfound routines and setting her back for six weeks over the Christmas period to recover. Yet even so, Ali was determined to return to work and stay on her path to success.
"I got discharged from my hospital and returned back home to an e-mail asking if I'd like to interview Michael B. Jordan and Jamie Foxx. It was the only sign I needed to know I wanted to get back to normal. I thought to myself: it doesn't matter if you're fully bandaged up or have a skin graft on your stomach or you're still on morphine, you have to get back to it. So, I did."
Four days later, Myra interviewed the celebrity duo in another five-star London hotel, sore from surgery and still on pain medication, but sprightly as ever.
"When people see that interview online, they have no idea that a week before, I would've been having skin cancer surgery." She notes, without the slightest nuance of hesitation or sympathy for the unbearable feat she's overcome.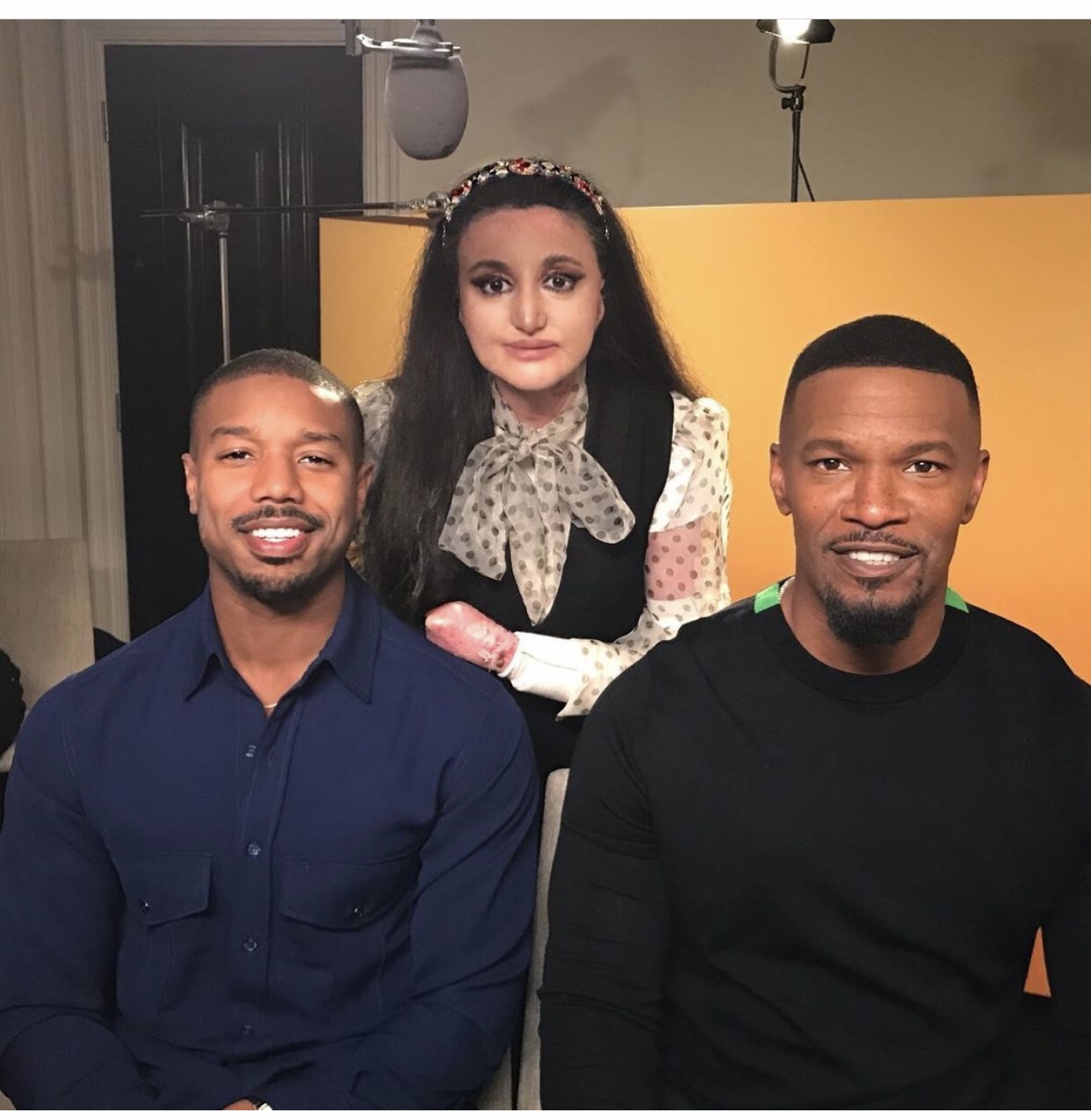 Ali with actors Michael B. Jordan and Jamie Foxx
Perhaps because she never saw it that way. For Ali, this interview became the defining moment between thinking she'd fallen behind to realizing she'd found her momentum again. And momentum she has found. To date, Myra has gone on to write several trending pieces for world-leading publications including British GQ, The Guardian, Stylist, The Huffington Post, New York Post and Cosmopolitan. She is also currently a Guest Editor for BBC 5 Live and represented writers with disabilities on a panel for 'Women in Journalism' for the University of Cambridge.
She continues to regularly interview world-renowned models, Instagram influencers, celebrity chefs, actors and Hollywood royalty on a daily basis, her optimism bright as ever. She even notes that the pandemic has helped her increase her workload, being able to easily work from home and conduct interviews over Zoom calls and helping her to find continuous purpose and joy from her work. She also continues to be a vocal advocate for disability representation in the fields of journalism and media, particularly in the subset of women and women of South-Asian heritage.
I ask her how she feels having achieved such an extraordinary career at such a young age, much less as someone who could've easily and rightfully resigned themselves (as others often do for them) to a life of feeling left behind as a result of her disability. She responds confidently:
"The thing is, I never wanted people to see me for my disability alone. I want them to see me for who I am and what I can do and what I write. Even on my social media, I really started to come away from focusing on my condition and more on the work I actually do. And it's not because I don't want to help people who might be going through the same, because I do and will always try my best to raise awareness about it. But it's more because I want people to see me for who I am and that goes far beyond being just skin-deep."
And see her they do. Her 14,000 + strong audience on Instagram is amongst the most engaged I've seen on any digital Journalist's profile lately. Alongside chiming in regularly on which dashing celebrity she should interview next, her loyal follower base also loves Ali's regular make-up and fashion tutorials, often citing her as a style icon in the comments – especially for those seeking representation in the mainstream media realm.
As we close our conversation, we pledge to have follow-up coffee chats, discuss all things Bollywood and exchange more life stories about our cultural heritage (I am Australian of Indian origin). But I can't let Myra go without asking her the secret to her infallible joie de vivre and what advice she'd give to anyone seeking to embody her same spirit.
"The truth is, I'm immensely grateful for the life I get to live. I am one of the lucky ones. I have two eyes, a nose, a mouth, two ears and I can see, smell, taste and touch. I have my arms and legs. I have shelter and access to healthcare, food and work. I have all the basics that so many people just don't get to have. My only advice is to practice gratitude. Be grateful every day for what you have and it'll always seem like it's more than enough."